How It Works
The Shark Fin tendonitis tool works by highlighting the issues within the tissues, including scars, restrictions, and adhesions. The Shark Fin is effective because it creates a controlled micro-trauma in soft tissues. The goal is to trigger a localized inflammatory healing reaction and to increase cellular activity. This response will encourage appropriate, more functional, and less painful healing of the injured tissues.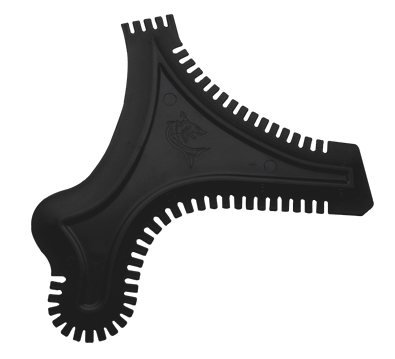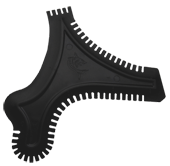 The 'teeth' of The Shark Fin focus the force through an area that is smaller than a finger, which allows for more efficient treatment with less force applied than is needed with other devices. Palpation alone is not sensitive enough to perceive restrictions at deep levels or to treat the full range of restrictions.
The Shark Fin has a unique design which provides effective treatment through fluid relief channels which permit fluid to pass through rather than under or around the instrument. Only a small amount of pressure is needed to provide an effective treatment. The ergonomic three-sided design of The Shark Fin allows for a stable grip that is easy on the hands. The multi-surface design also allows for treatment of many different areas using the same instrument.
The Shark Fin does not call for immobilization (such as the bracing of an injury which can cause a joint to become stiff and rigid) but helps promote motion, allowing continued everyday activities. It facilitates fast pain relief, quick recovery and rehabilitation, which gets you back to doing what you want in a shorter period of time. The Shark Fin can help reduce the need for anti-inflammatory medications while working to resolve chronic conditions. While limiting repetitive stress is important, joint immobilization can actually do more joint and tissue damage. Bracing should not be used as a form of treatment but in some cases it may be appropriate for support. When and how should be determined by a qualified practitioner managing your case.
Determining The Treatment Area
Standard Treatment Protocol Video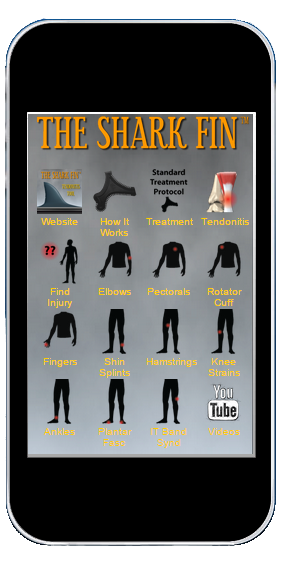 Easy Instructions
Our instructional app for mobile devices will show you how to use your Shark Fin after you have purchased it, or on the page of this website for that particular condition.