Treat Tendonitis at Home
Tendonitis is a leading cause of pain and discomfort. It is especially prominent for people who perform repetitive activities. Whether you fish, type, play a sport or even knit, the repetitive motion is likely to cause some degree of tendonitis in the future.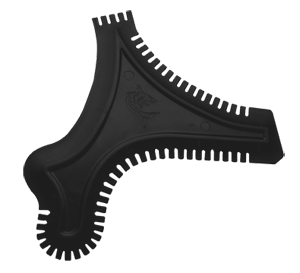 Finally there is a tool YOU can use to heal these injuries! Until now, the standard of tendonitis treatment has been to simply mask the injury using anti-inflammatories, braces, or tapes until the injury is bad enough to require surgery. The Shark Fin was designed by a physician who treats these injuries daily and understands that many conditions are never fully healed because of limitations of time and money. Tendonitis treatment tools are traditionally reserved for health care professionals, but The Shark Fin gives YOU an alternative treatment to perform in the comfort of your own home. Cheaper than most co-pays!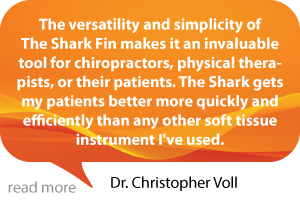 Engineered for Healing and Comfort
The Shark Fin's unique patented design is like no other tool on the market, with specially engineered fluid relief channels. These channels allow you to work out the scar tissue with less pressure, which means less pain.
The Shark Fin works by increasing blood flow and breaking up restrictions in injured soft tissue. As The Shark Fin breaks up abnormal densities in tissue, it triggers a localized inflammatory healing reaction while increasing cellular activity, giving you a more functional and less painful healing of the injured tissues. Our instructional app for mobile devices will show you how to use your Shark Fin after you have purchased it or you can watch instructional videos from the injury list.
Early Detection and Treatment
The Shark Fin will also make it easier for you to both detect and treat soft tissue dysfunctions in your body. It will magnify the issues, including scars, restrictions, and adhesions in the soft tissue so that you can jump start the healing process.
Seen On TV
The Shark Fin tendonitis tool has been featured on KSDK St. Louis.
"Shark Fin" tool treats and relieves tendonitis pain - August 10, 2015